Zhang J, Yu P, Fan L, Sun Y.
Ultrason Sonochem. 2021 Jan;70:105347. doi: 10.1016/j.ultsonch.2020.105347.
As a non-thermal processing method, the ultrasound treatment prior to the frying process has been demonstrated with great potential in reducing the oil absorption of fried food. This research aimed to evaluate the effect of ultrasound pretreatment on starch properties, water status, pore characteristics, and the oil absorption of potato slices. Ultrasound probe set with two power (360 W and 600 W) at the frequency of 20 kHz for 60 min was applied to perform the pretreatments. The results showed that ultrasound pretreatment led to the surface erosion of starch granules and higher power made the structure of starch disorganized. Moreover, the fraction of bound water and immobilized water were changed after ultrasonic pretreatment. Pores with the minor diameters (0.4-3 μm and 7-12 μm) were formed after ultrasound pretreatment. The penetrated surface oil (PSO) content, and structure oil (STO) content were reduced by 27.31% and 22.25% respectively with lower power ultrasound pretreatment. As the ultrasound power increased, the surface oil (SO) content and PSO content increased by 25.34% and 12.89% respectively, while STO content decreased by 38.05%. By using ultrasonic prior to frying, the quality of potato chips has been greatly improved.
See: https://pubmed.ncbi.nlm.nih.gov/32956936/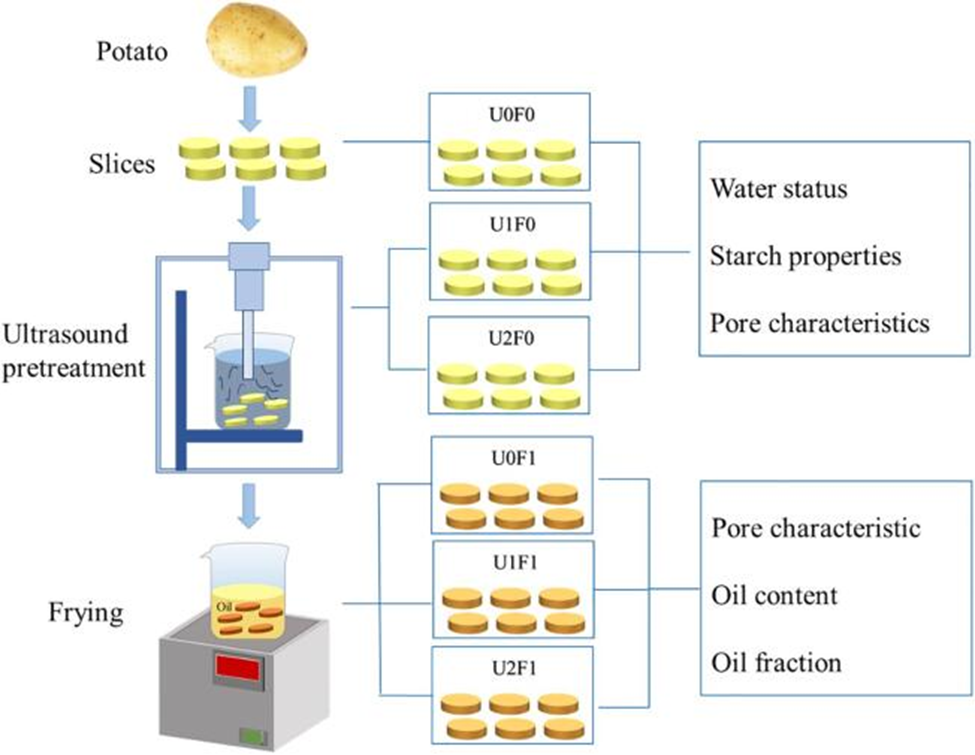 Figure 1:
Experimental design of ultrasound pretreatment and frying programs. (U0: without ultrasound pretreatment; U1: ultrasound pretreatment at 360 W for 60 min; U2: ultrasound pretreatment at 600 W for 60 min; F0: without frying; F1: frying at 180 °C for140 s).