Alina I. Chernova, Rim F. Gubaev, Anupam Singh, Katrina Sherbina, Svetlana V. Goryunova, Elena U. Martynova, Denis V. Goryunov, Stepan V. Boldyrev, Anna A. Vanyushkina, Nikolay A. Anikanov, Elena A. Stekolshchikova, Ekaterina A. Yushina, Yakov N. Demurin, Zhanna M. Mukhina, Vera A. Gavrilova, Irina N. Anisimova, Yulia I. Karabitsina, Natalia V. Alpatieva, Peter L. Chang, Philipp Khaitovich, Pavel V. Mazin & Sergey V. Nuzhdin
BMC Genomics volume 22, 505 (2021) (Published: 05 July 2021)
Background
Sunflower is an important oilseed crop domesticated in North America approximately 4000 years ago. During the last century, oil content in sunflower was under strong selection. Further improvement of oil properties achieved by modulating its fatty acid composition is one of the main directions in modern oilseed crop breeding.
Results
We searched for the genetic basis of fatty acid content variation by genotyping 601 inbred sunflower lines and assessing their lipid and fatty acid composition. Our genome-wide association analysis based on the genotypes for 15,483 SNPs and the concentrations of 23 fatty acids, including minor fatty acids, revealed significant genetic associations for eleven of them.
Identified genomic regions included the loci involved in rare fatty acids variation on chromosomes 3 and 14, explaining up to 34.5% of the total variation of docosanoic acid (22:0) in sunflower oil.
Conclusions
This is the first large scale implementation of high-throughput lipidomic profiling to sunflower germplasm characterization. This study contributes to the genetic characterization of Russian sunflower collections, which made a substantial contribution to the development of sunflower as the oilseed crop worldwide, and provides new insights into the genetic control of oil composition that can be implemented in future studies.
See https://bmcgenomics.biomedcentral.com/articles/10.1186/s12864-021-07768-y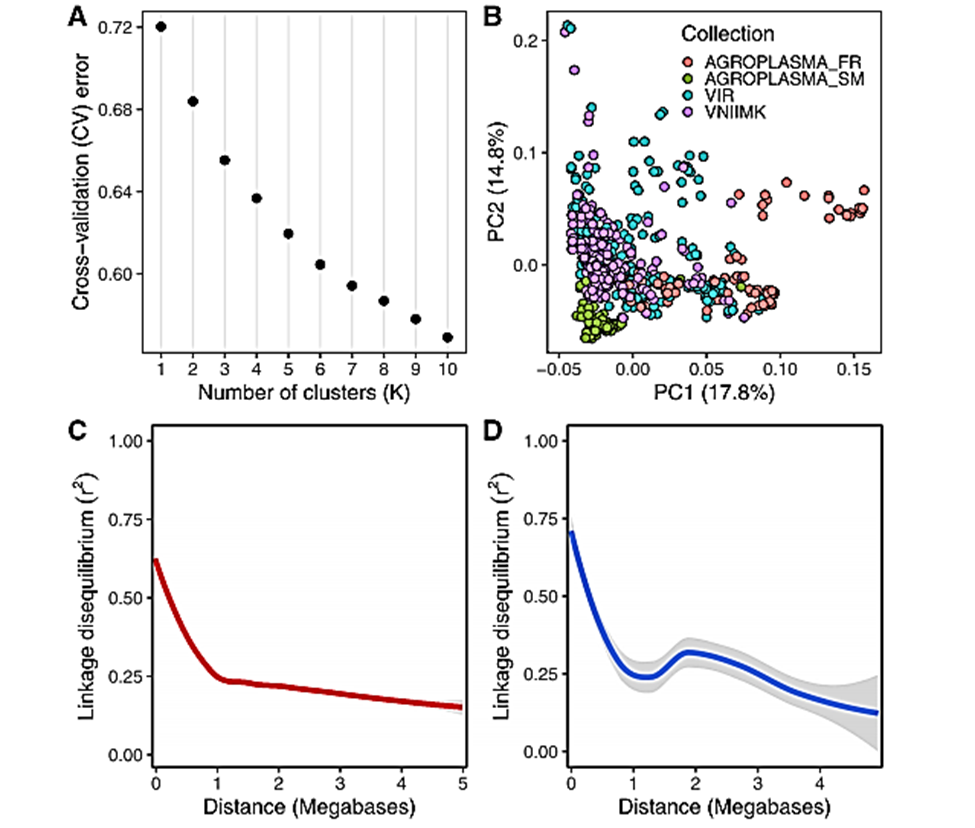 Figure 1: Population structure of germplasm and linkage disequilibrium (LD) values. A Estimated cross-validation error value for possible cluster number from 1 to 10. B Subpopulations were assessed using Principal Component Analysis. Each dot corresponds to a sunflower accession used in the study. Color corresponds to sunflower lines from different collections. Agroplasma_SM indicates sterility maintainer lines from Agroplasma; Agroplasma_FR indicates fertility restorer lines. C, D Genome-wide (C) and per-chromosome 3 (D) LD-decay. Lines correspond to loess curves