After peaking at 7.1% in 2018, real GDP growth in 2019 expanded 7.02 %, fueled by a robust expansion of the processing and manufacturing sector and service sector, according to the General Statistics Office (GSO). Economic and political reforms under Đổi Mới (renovation), launched in 1986, have spurred rapid economic growth, transforming what was then one of the world's poorest nations into a lower middle-income country. The GDP per capita in 2009 is $2,800. Between 2002 and 2018, more than 45 million people were lifted out of poverty. Its population reached 97 million in 2018 (up from about 60 million in 1986) and is expected to expand to 120 million before moderating around 2050. Today, 70% of the population is under 35 years of age, with a life expectancy of 76 years. Vietnam ranks 48 out of 157 countries on the human capital index (HCI), second in ASEAN behind Singapore. Vietnam's labour productivity is attempting to catch up with ASEAN. Its 2019 value obtained $4,791 per labor currently (increased $272 as compared to 2018). ICOR index in 2019 obtained 6.07 to pay a special attention to improve as much as possible.
Agriculture's share of economic output has continued to shrink from about 46.3% in 1988, 20% in 2016 down to 14.96% in 2019 [industry of 34.49%, service of 41.64%]. Total agricultural value in 2019 increased 2.32% as compared to 2018; including crop products and husbandry of 0.84%, forestry of 4.85% and fishery of 6.25%.
The export turnover of agriculture obtained $US 41.3 billion; including agro-products, husbandry products, aqua-products and processed wood & furniture products of $US 18.5 (5.3% decreased), US$ 0.710 (10.6% increased), US$ 8.6 (2.7% increased) and $US 11.2 billion (19.2% increased), respectively.
The conversion of rice cultivated areas with low economic efficiency into other crops, fishery, orchards, etc.. was recognized as hundred thousand ha.
Rice growing areas developed 7.47 million ha (100,000 ha decreased) with rice production of 43.44 million T (602,000 T reduced) and average yield of 5.82 t/ha. The milled rice export of 6.34 million T (3.9% increased) obtained the turnover value of $US 2.79 billion (9.7 % decreased).
Maize growing area is 0.99 million ha (4.1% decreased) with average yield of 4.81 t/ha. Total maize production gained 4.76 million T (2.4% decreased).
Vegetable areas increased up to 966,500 ha (29,100 ha increased) with the production of 17.6 million T (900,000 T increased).
Fruit orchards developed 964,000 ha (1.5% increased). Production of mango (4.2% increased), orange (8.5%), pomelo (12.1%), banana (6.2%), and dragon fruit (14.4%) obtained 825, 928, 739.3, 2,200, and 1,200 thousand tons, respectively. The export turnover of vegetable and fruit obtained $ 3.74 billion (1.9% decreased). In 2019, China became the biggest market with its share of 65.7%.
Legume crops obtained 137,200 ha (6,300 ha decreased), and gained the production of 161,000 T (16,700 T decreased)
Soybean growing area is 49,500 ha (7.1% decreased).
Groundnut growing area covered 176,800 ha (4.8% decreased)
Sweet potato growing area is 116,500 ha (1.1% decreased)
Coconut growing area is 175,000 ha mostly in Mekong Delta accounted for 80% of the plantation. It covered roughly 123,300 ha with its production of 1 million tons. Organic coconut farms with their official certification compose of 3,255.1 ha in Bến Tre province.
Coffee growing areas is 692.6 thousand ha (11,900 ha increased) with the bean production of 1.7 million T (46,100 T increased). The export turnover of coffee offered $US 2.75 billion and 1.59 million tons (22.4% and 15.2% decreased, respectively). Germany and the US became the biggest market to consume Viet coffee in 2019.
Tea growing area is 124,400 ha (1,400 ha increased) with the production of 1 million T (25,300 T increased). The export turnover of tea gained $US 212.16 million (8.1% increased) with the volume of 122,451 T (5.9% increased).
Rubber area is 947,500 ha (14,300 ha decreased) with total production of 1.2 million T (61,800 T increased). The export turnover of rubber obtained $US 2.26 billion (8.3% increased) with 1.68 million T (7.7% increased). The three biggest markets now are China, India and Korea, which consume Viet rubber products with the share of 66.5%, 8.3% and 3.0%, respectively.
Cashew nut cultivated area is 302,600 ha (3,100 ha increased) with the production of 286,100 T (19,700 T increased). The export turnover of cashew nut products offered $US 3.29 billion (2.1% decreased) and a volume of 457,000 T (22.4% increased).
Black pepper growing areas are promoted over 142,800 ha (4,700 ha decreased). Pepper production obtained 264,000 T. The domestic market price dramatically downed to VND 140,000 per kg (~six USD per kg). The export turnover of black pepper offered $US 0.721 billion (6.9% decreased) including black berry of 257,396 T and white berry of 29,607 T. The total volume for export obtained 287,003 T (21.7% increased).
Cassava growing area is 472,000 ha (8.1% increased). The export turnover of cassava products obtained the volume of 2.46 million T (2.91% increased), and the value of USD 984 million (same in 2018).
In 2019, the country still has about 650,000 T of sugar on inventory, resulting in 17 out of 36 sugar production factories losing money. The ASEAN Trade in Goods Agreement (ATIGA) will also affect the one after, while from January 1, 2020. Sugar cane productivity gained 68.3 t/ha with total production of 12.2 million T of cane and 1.17 million T of sugar. Vietnam sugar production cost is VND 100-200 thousand per kg higher than Thailand (US$ 4-8 per kg).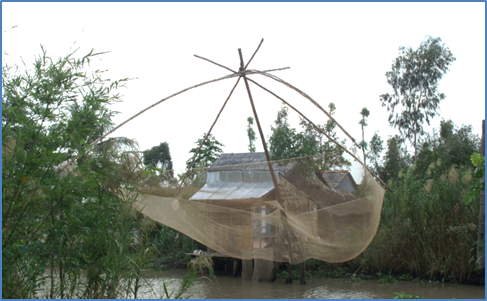 In 2019, VietGAP was certified and carried out in 39,300 Ha including fruit, vegetable, rice, tea, coffee and others of 22,600 ha, 5,990 ha, 5270 ha, 5,120 ha, 101 ha and 105 ha, respectively. Some local areas were invested by entrepreneurs to set up organic farms, sustainable production farms how to enrich our rural life and friendly agriculture production.
In 2019, African swine fever virus had expanded with the damage value of $ 10 billion. Vietnam had destroyed 5.9 million heads of swine (~337,800 T meant 8.9% meat volume). Heads of pig decreased 26.8% with meat product of 3.3 million T (13.5% decreased). Total meat production obtained 5.0 million T (6.2% decreased). Milk product obtained 1.3 million T (10% increased) with dairy cows' increasing of 367,000 heads. Poultry obtained meat production of 1.3 million T (15% increased) and 13 billion egg units (12% increased). Beef production of 0.35 million T increased 4.4%. Hybrid bovine percentage increased up to 64% for meat. The export turnover of meat gained US$ 0.710 (10.6% increased).
Aqua-production obtained 8.2 million T (5.6% increased). Culture products gained 4.4 million T (6.3% increased). Nature products obtained 3.8 million T (4.8% increased). Brackish shrimp culture of 830,600 T (3.3% increased); Pangasius fish of 1,52 million T (6.9% increased). Total value of aqua-products increased 6.25% as compared to 2018.
In 2019, forestry production value increased 4.85%. Economic wood farms, which have grown with tree varieties certified by MARD, accounted for 91%. The FSC certification forests increased from 134,980 ha (2015) up to 250,061 ha (2019). The income of wood farmers increased from 25 to 30% in 2019. The product of 16 million m3 wood exploited has increased 4.8% as compared to 2018, to meet the demand of 80% wood processing factories in Vietnam. Please remind that the figure in 2010 was 20%. The newly planted forests gained 274,000 ha to enhance the forest coverage of 41.85% today.
Salt-marsh areas developed 13,380 ha including 9,324 ha of regular farms and 4,056 ha of industrial processing salt farm. Salt production obtained 1.18 million T (1.8 % increased). Salt production farms applied new technologies accounted for 40% in 2019.
In 2019, some economic groups focussed their investment of VND 20,000 billion for agro-product processing industry. Thanks are due to post-harvest technology so that rice loss is less than 10%, the mechanization for land preparation, rice seeding and transplanting, insecticide and fungicide spraying and rice harvesting obtained 95%, 44%, 79% and 54%, respectively.
Due to positive commercial promotion, the agro-products for export significantly increased as compared to 2018 as rubber (9,3%), tea (16.0%), wood and wood products (19.5%), cinnamum (31.0%), rattan (44.4%) and husbandry products (6.5%)
Water irrigation potential meets the demand of 7.2 million ha of rice growing area (total 7.52 million ha). It increased its potential up to more 10,000 ha for irrigation and drainage. The damage due to natural disaster estimated as VND 7,000 billion (70% decreased) as compared to VND 20,000 billion in 2018.
In 2019, there are 13,400 modern cooperatives; 45 Unions of agri-cooperative farms (14.6% increased). In the country, there are 36,000 farms suitable to new standards (500 farms increased). There are 12,581 agro-entreprises including 2,756 new agro-entreprises (25.3% increased). Big and famous entreprises can be cited as Vinamilk, Nafoods, TH, Dabaco Việt Nam, Masan, Lavifood, Ba Huân, Biển Đông. They are key contributors in Vietnam agriculture development. The cooperatives have applied hi-tech agriculture are 199 units (1.3%).
Safe food supply chains are developing with 1,464 chains (388 increased). They are holding 2,374 products (948 increased) at 3,267 specific sites in the whole country (93 increased).
MARD declared to delete three plant protection compounds out of the country list for users as Chlorpyrifos, Fipronil and Glyphosate.
There are 4,808 communes, which were standardized as newly rural development title (54%). Of them, 87 communes located in specific areas with tough difficulties due to high mountains and remote areas. Of 664 district units, 111 (16.71%) fully responded the standards.
People in rural life offering clean water supply accounted for 94%; it meant 2% increased as compared to 2018, 8% increased as compared to 2015.
To overcome our farmer low income, Vietnam would soon become a deep processing centre of world agriculture and a logistic hub of global agricultural trade. The Vietnam smallholder farmers struggle to meet their basic needs from farming a small piece of land (0.3 ha average per household). If they could have large farms, they would have to process the harvests to a certain level to add value in order to sell them in competitive markets. In short, farming is not just another great way to get rich, especially at smallholder level like in Vietnam today. The world has a serious food problem and the only real way to solve it is to draw more people back to agriculture. It is not easy for the young generation in Vietnam rural areas. Because agriculture is the world's biggest commodity problem, biggest challenge and the biggest opportunity on the path to a successful and satisfying life. Market is often a tough challenge for example Pangasus fish in 2019 Mekong Delta situation. Agribusiness and farmer cooperatives are addressing how to meet the situation as "opportunity knocks: world need more farmers, cannot feed 10 billion in 2050". Farmers must be rich or be sure better livelihood while Vietnam population of 120 million people. The problems are increasingly more complex, the solutions remain embarrassingly simple. All ways must be paid attentions to offer sustainable agricultural practices that are protecting the environment while also improving people's livelihoods.
Time is flying by and "all the best" in the coming year.
Prof. Dr. Bui Chi Buu
January 2020
(All statistical figures are highlighted from the MARD review in December 23 2019, and the General Statistics Office ).